About Cloud Connector
Cloud Connector software is a bridge between our PhotonMaster Bluetooth Module connected to our PhotonMaster luminometer. It allows you to take a reading when running an ATP test from your computer using the Test and Analyze section of myLuminUltra. Cloud Connector is quick and easy to install. The application is added to your Windows startup routine so that it's ready to go when you are ready to do your testing.

System Requirements
Cloud Connector is compatible with computers running Windows 7 and later. Since communications with Cloud Connector are running through the internet as opposed to locally, it is advised to not run tests while on VPN or during other operations that might have an adverse effect on network quality. A download speed of at least 20 Mbps and an upload speed of at least 10 Mbps are recommended.
Procedure to update/install Cloud Connector:
You may need to update your .Net Desktop Runtime
If the .Net Desktop Runtime needs to be updated, the Cloud Connector app will prompt you for an update
Follow the link & download the x64 version for Windows

Launch Cloud Connector
Sign in with your myLuminUltra email address
Confirm Cloud Connector Version 3.1.4
Begin running tests with Test + Analyze
Please note, that multiple USB devices connected to the same PC can cause communication errors between Cloud Connector and the PBM. We recommend that wireless devices such as keyboards and mouses are turned off when running tests.

Operating Cloud Connector
You will be first prompted by Cloud Connector to enter your email address. You must enter the same email that you use for signing in to myLuminUltra or else your PBM will not properly connect.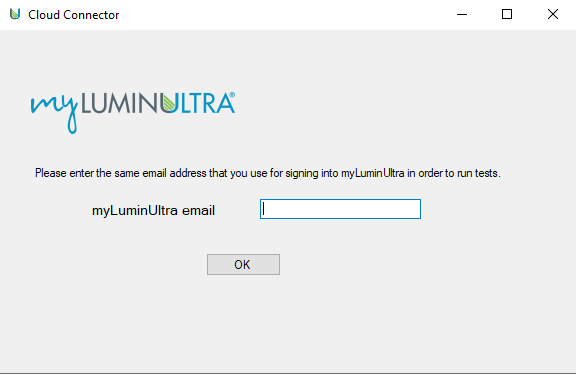 You will now see the connection status screen. Use this screen to view the connection's status on demand.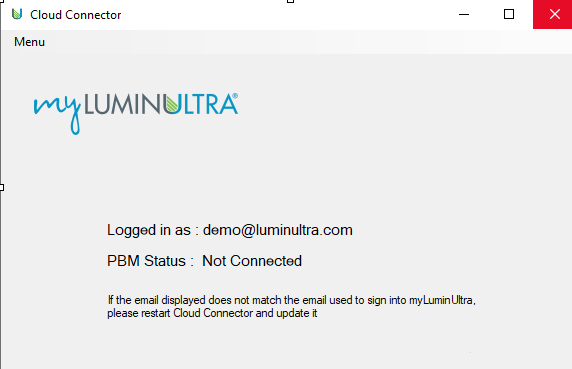 The menu can be used to perform actions such as resetting the PBM or updating the software or firmware when available.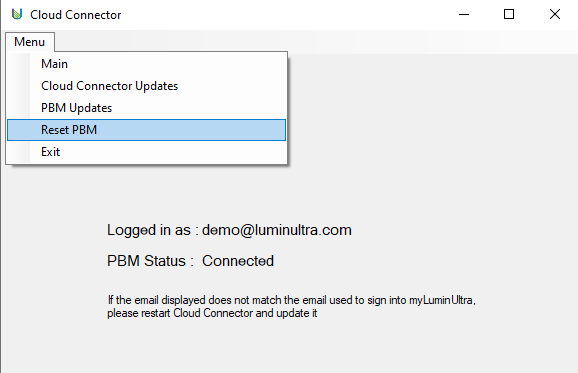 If at any time the PBM fails to capture data, try the Reset PBM option from the menu. If the failure persists, try restarting Cloud Connector.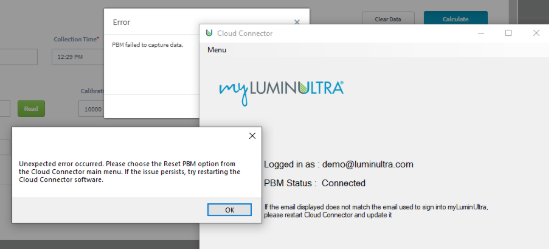 If you are still unable to connect to the new myLuminUltra Cloud Connector from Test + Analyze web application to run tests, you will be required to clear your browser data.
See step-by-step instructions on clearing your browsing data:
You are free to dismiss the Cloud Connector window. The interface can be accessed anytime from your system tray by clicking on the Cloud Connector icon.